Great day at the Helensburgh Fair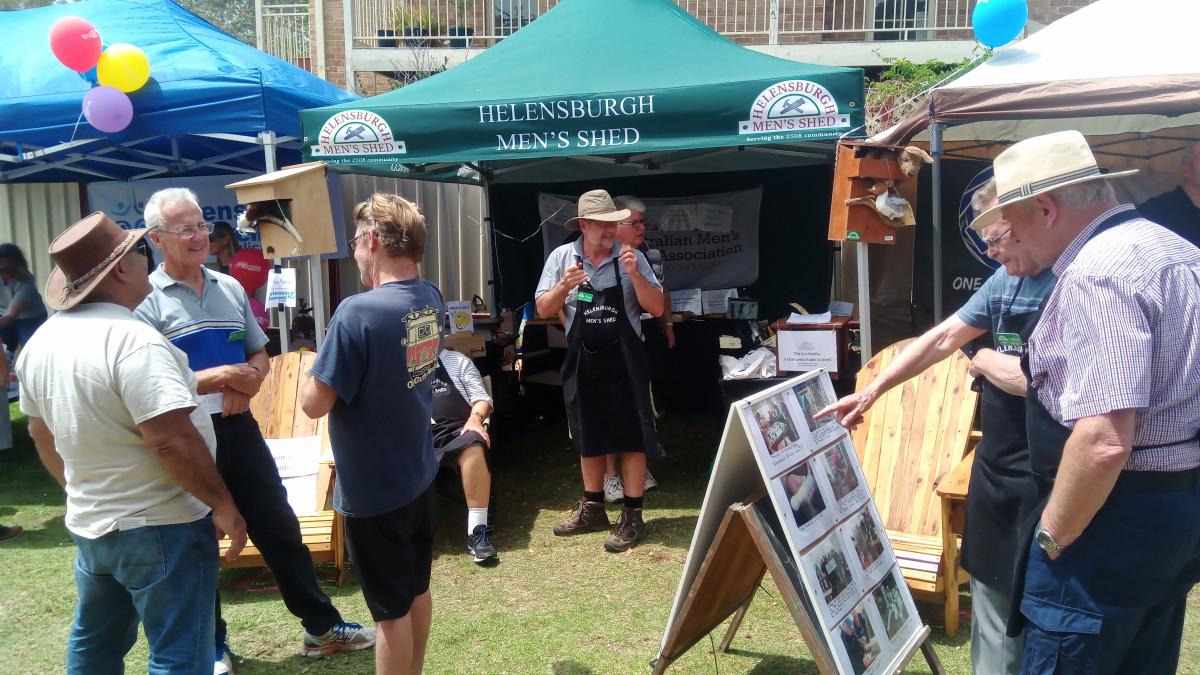 The following article will appear in December's 2508 magazine,
Congratulations to the Helensburgh Lion's, an organisation that makes things happen,  for a wonderful Country Fair, full of enjoyable entertainment, good food, fun rides, local colour and beautiful craft. And not to be outdone, the ladies of the Country Women's Association, the largest women's organisation in Australia since 1922, have hosted a spectacular Festival of Flight.
The Men's Shed also laid a flower wreath and donated a book to a local school on Remembrance Day, alongside the Helensburgh RSL Sub-Branch members.
Well done to all these dedicated teams of volunteers!
Helensburgh Men's Shed members were delighted  to participate in these events with a Shed Display Stall and to meet and talk with people from the 2508 community.
The Shed's stall had examples of the activities we enjoy, featuring toy animals, fauna boxes, rustic candles and much more. But more importantly, we were able to show locals and visitors alike the value of Men's Sheds in Australia, with many of our visitors showing great interest in attending the Shed themselves, or telling a family member or friend about us.
Of interest to young children was our scroll saw, where Shed members could quickly fashion a small wooden shape that the child had drawn. The kids loved the little Noah's Ark family, and the Safari animals and little Jeep.
Our special thanks once again to our sponsors, Hope Church, Helensburgh and Stanwell Park Anglican, the Top's Conference Centre, Razamataz Car Wash and Gary Laker, RFS volunteer.
And congratulations to Rachel and Tom Peach, who very generously bid for and won our first ever Adirondack chair. Thank you very much, from all the Men's Shed members.
We were pleased  to have people enquire about possible commissions, ranging from small furniture restorations and repairs to a Chable, an Adirondack chair, pencil holders and tool repairs.
The Shed's committee is actively working with Council and Government, seeking land or an existing facility within the Helensburgh district  to establish a permanent Men's Shed facility for all the Community to enjoy and benefit from. Once we have been successful in this search, the Shed will be actively seeking further Sponsors.
We hope that as the Community experiences the Men's Shed in action at events such as the Fair, the Festival of Flight and throughout the 2508 area, more men will decide to join us. We would love to increase our membership and so open more throughout the week.
So ladies, if you have a man in your life that could benefit from all the Helensburgh Men's Shed offers, hubby, brother, grand-dad, uncle or retiree - make sure he knows about the Shed.
Remember, currently we meet at the Stanwell Park Anglican Hall on Mondays 9am to 3pm. Other days are possible on request.  Men are very welcome to join us to stand shoulder to shoulder through life's good times and challenging times. As members of the Australian Men's Shed Association our ultimate aims and goals are to improve and enhance men's physical and mental health and well-being.